Marcus T Anthony's new web site and blog can be found at: is www.mind-futures.com.
The universe works in mysterious ways.
Last week I was out and about with my wife in the IFC Mall, one of Hong Kong's more pricey shopping establishments. Walking around on the third floor, I stumbled across a book shop and went in. There, right on top of a pile of books on a table near the front of the bookshop was a certain volume which caught my eye: Dying to be Me, by Anita Moorjani. I picked it up and did what I always do when deciding whether or not to buy a book: I stilled myself, bringing my mind fully present, then felt the book. My intuition told me that the book was for me, so I went straight to the counter and bought it.
I wasn't disappointed. The author, I found out, is a Hong Kong woman of Indian decent. Several years ago she was diagnosed with cancer. The book details her experience with the disease, and her remarkable visit to death's door. To cut a long story short, Anita describes how her condition gradually deteriorated, until she was admitted to hospital in a coma. Her doctor's had basically given up on her, and her organs had begun to shut down. One of the doctor's wrote down that her family should be informed of her true condition, meaning that he was convinced that she was about to die.
The author then describes the miracle that happened next. She had a classic near death experience where she was able to hear not only what was being said by doctors who were treating her, but she could also see into the minds of her close relatives, including a brother who was on plane, rushing to see her. She saw her current life in a grand spiritual context, witnessed her past lives, and experienced an expanded state of mind which transcended time and space. This is mental state is what I call a classic experience of Integrated Intelligence (INI), as I outline in my book
Discover Your Soul Template,
INI is the experience of mind which extends out from the body and interacts with other people, places and even other times.
Anita Moorjani shares her wonderful spiritual insights with the reader. The message is clear. We spend too much of our lives denying our own magnificence, living for some future goal, or just believing that we are inadequate. It is these beliefs and attitudes that the author sees as being central to her becoming sick. Her cancer was an expression of a greater dis-ease in her mind. The genuine miracle occurred when Anita awakened from her coma. Within two weeks her cancers had reduced dramatically in size, and soon they had vanished from her body without a trace.
I love the book. In fact, as I read it I realised that I had a strong connection with its message. Although I have never had a near death experience, I have experienced many non-ordinary states of consciousness and had many spiritual experiences where I received insights that mirror those of Anita Moorjani.
As I was reading the book, I texted one of my good friends in the consciousnesses movement here in Hong Kong, transpersonal psychologist Doug Seiddon, and told him he should read the book. He texted me back saying that he had met Anita two years previously at the Hong Kong Consciousness Festival. He said she was a very nice woman. I felt rather envious.
What I will relate next is actually true, even though it may seem rather incredulous. I was seriously considering contacting the author, as we live in the same city. A scenario kept popping into my head during the first few days after I purchased the book.
I am sitting in a public space. Suddenly I realise that Anita Moorjani is sitting right beside me. I walk over to her and say "Are you Anita Moorjani?" I point to her book, which I am holding.
In fact this scenario came to me just yesterday when I was travelling on public transport. It was as if I could feel Anita very close to my physically. There definitely felt like a connection.
So today, Sunday, I went out in the afternoon to the Pacific Coffee place in Discovery Bay, not far from my apartment. I sat down and began to do a little writing on my computer. Suddenly a woman's voice caught my attention. I looked up to see three people of Indian heritage sitting just a metre away from me at the next table. The woman, who was turned away from me, was talking about her publicist. I realised that she must be a writer. The idea immediately came to me that this woman was Anita Moorjani. I couldn't see her face clearly, but I could see a distinguishing facial feature on her right cheek. So I opened my copy of Dying to Be Me (which I had on the table) and turned to the author page. Sure enough, the woman sitting a metre away from me had the same feature in exactly the same spot on her face. I checked her energy intuitively, and saw that she had a soft and very feminine energy, and was very relaxed in her body. It was a perfect match!
I was just thinking about how I might interrupt their conversation (as I am not a natural extrovert) when suddenly the Indian man chatting to the woman got up and walked over to me. "Is that book any good?" he asked. He was smiling.
"Yes! Is this Anita?" I asked indicating to the woman. They were all smiling.
Sure enough it was her. I kindly invited myself over for a chat with them! The man was Danny, Anita's amiable husband. We chatted for about twenty minutes or so, and I was delighted to discover that Anita was as genuine as her book suggests. But the synchronicity didn't end there. I discovered that the couple live in Discovery Bay too. But even more incredibly, we found out that we had both lived in the same tiny village of a few hundred people in Hong Kong's New Territories at the same time (2008) - at opposite ends of the village. They knew several of my friends in the village. The odds of that must be astronomical. I honestly can't remember seeing Anita or Danny there, but I must have seen them at some time, because the village is quite isolated, with only one mini-bus which takes about 25 minutes to get to the nearest train station.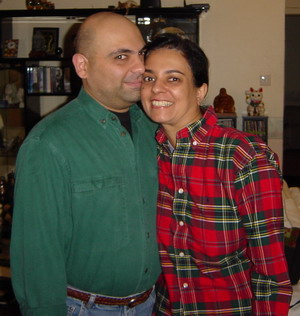 Anita and Danny

What a wonderful series of synchronicities!
Even better, if you go to Amazon.com you'll see Anita's book has become an instant best seller. I have to be honest and say I have read some spiritual best sellers which I would describe as simply awful - where I intuitively sensed that the author was not capable of walking the talk. Happily with
Dying to be Me
, this is not the case. I give it five stars out of five.
(* I have written a little more about the aftermath to this incident and a profound vision I had the next day in the following blog post)
Blessings,
Marcus